KRONUS™ Regenerative Thermal Oxidizer
Outstanding Pollution Control Value
The KRONUS™ Regenerative Thermal Oxidizer by Alliance Corporation offers the benefits of high heat recovery and process application flexibility of regenerative thermal oxidization, designed in an economical modular package to create an outstanding overall value in emissions control equipment.
The KRONUS™ oxidizer is housed in a single compact box. This integral valve feature eliminates the transition ducts often associated with conventional Regenerative Thermal Oxidizer designs.
KRONUS™ Details and Specifications
95% - 98%+ VOC Destruction Efficiency
KRONUS™ Regenerative Thermal Oxidizers are designed to destroy up to 98% of the VOCs present in the process stream fed to the RTO. In standard configuration, KRONUS™ RTOs are guaranteed for 95% VOC destruction and can be configured up to a guaranteed 98% VOC destruction. The enhanced VOC destruction is achieved by extending the duration between flow direction changes to reduce the ratio of the entrained volume to the process flow. This extended duration can decrease the thermal efficiency; however, on many processes where this technique is applicable, there is sufficient VOC fuel value available to offset the thermal efficiency losses. There are instances where KRONUS™ Regenerative Thermal Oxidizers have achieved 99%+ VOC destruction in the field.
It takes 3 times longer to do anything in the field than is does in the shop. Therefore, all Alliance Corporation Regenerative Thermal Oxidizers are completely factory pre-assembled. This includes mechanical assembly of all components, plumbing and electrical. Every Alliance Regenerative Thermal Oxidizer undergoes extensive factory testing, control systems check out and calibration prior to shipment. The factory pre-assembly reduces the installation effort and maximizes quality control over the finished product. The factory testing ensures a smooth startup. A typical installation can be completed in a day. A typical startup can be completed in as little as 2 days on-site, including personnel training.
State of the Art Controls
At first glance, many Regenerative Thermal Oxidizers can seem similar in that they are all basically insulated boxes containing some type of ceramic media and a means for switching the flow direction. While we can and will make the case that the design, materials, components and execution of our Regenerative Thermal Oxidizers is superior to the competition, it is controls that is one of the greatest areas of difference that sets Alliance Corporation apart from the rest of the Regenerative Thermal Oxidizer manufacturers.
Alliance Regenerative Thermal Oxidizers feature state-of-the-art controls with detailed proven software that is self-diagnosing and correcting. The software is the result of years of field experience. The software contains complex algorithms to wring out the maximum VOC destruction and thermal efficiency. The software and graphic operator interface provides the end user with unmatched intuitive and simple operation. We guarantee the performance of the software for the life* of the Regenerative Thermal Oxidizer.
One of the keys to our successful control systems are VPNs included as a standard feature with each Regenerative Thermal Oxidizer. The VPNs allows real time monitoring of our Regenerative Thermal Oxidizers. Combined with the data collected by our telemetry software, these tools enable Alliance Corporation to provide unparalleled support.
*The lifetime guarantee requires a working DHCP internet connection to the VPN. The lifetime guarantee is for the proper functionality of the PLC program for all aspects of the Regenerative Thermal Oxidizer operation for the scope at the time commissioning. In the event of future process scope changes after commissioning that require programming, the programming may be billed on a time and material basis.
Every Alliance Regenerative Thermal Oxidizer is equipped with a Programmable Logic Controller (PLC) equipped with an Ethernet port that is attached to a VPN. The VPN allows monitoring of the PLC and HMI code. The VPN allows us to diagnose and troubleshoot directly in real time so that we can provide quick support. With the VPN in place, we are able to provide extended hour support for the maximum up-time of the system.
The PLC performs both control of the Regenerative Thermal Oxidizer and data logging. Every event, warning and fault is time and date stamped and stored in the PLC memory. Key process variables are recorded at regular intervals and stacked into the PLC memory. Alliance has developed software to retrieve this data from the PLC memory via a VPN. With the operation history, we are able to ensure optimal performance and up time. Please contact us for a live demonstration. We will come to your offices and connect to an operating Regenerative Thermal Oxidizer with our smart phones. We are confident that you will be impressed.
Top Quality Components and Materials
Alliance Corporation has learned through experience of servicing and repairing oxidizers built by others that there is no benefit to cutting corners on materials and components. We have deliberately chosen to use the most robust materials and highest quality components available. You might consider that the quality of our components, craftsmanship and attention to detail would lead to higher prices for our equipment; however, just the opposite is true. We make up the difference in warranty savings. Alliance Corporation equipment has a proven track record of extreme reliability, and as such, our warranty expenses are negligible. Therefore, we are able to reflect warranty overhead savings in our up-front equipment pricing which you will find is among the most competitive in the industry.
Some examples of quality that set Alliance Corporation apart: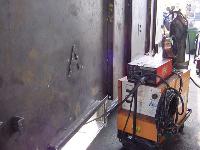 Alliance Corporation fabricates all standard oxidizers out of 1/4" thick carbon steel plate. Alliance also fabricates oxidizers out of stainless steel, AL6-XN® when required for special processes.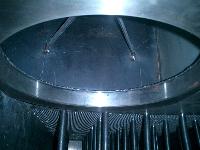 Alliance Corporation manufactures robust 2-way poppet valves for the inlet and exhaust of each bed. The valve seats are machined from solid steel. The valve disk is a steel plate disk sandwiched between a machined steel hub with a bolted and welded end cap. The disk assembly is threaded on to solid stainless steel shaft and locked at three points. The shafts are supported and housed in a purged pipe with self-aligning guide bearings at top and bottom.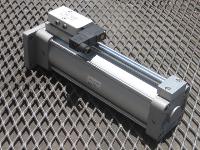 Alliance Corporation poppet valves are automated by specially built actuators with extended internal pneumatic cushions to reliably slow down the disk to ensure gentle quiet contact with the seat. The actuators are fitted with mufflers to suppress pneumatic noise. Our actuators are built to endure decades of continuous use with no appreciable wear.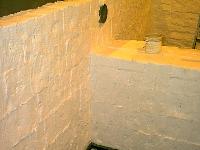 The interior of the combustion chamber and heat exchange beds are insulated with 8" thick SuperWool® compressed fiber modules stud welded in place. On high temperature applications, the interior of the inlet and exhaust poppet valve manifolds are insulated and cladded. There is no external insulation.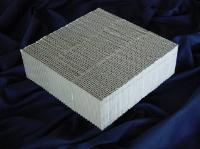 Alliance Corporation uses structured heat exchange media made of industrial porcelain. Structured media has greater thermal efficiency and a lower pressure drop which allows for smaller, more efficient beds. Structured media never requires additional material or leveling. Structured media will last the lifetime of the Regenerative Thermal Oxidizer on particulate and silicon free processes.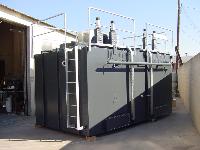 Alliance Corporation Regenerative Thermal Oxidizers include a ladder and handrails for easy, safe access to all components. All ladders and handrails are powder coated to ensure a maintenance free durable finish.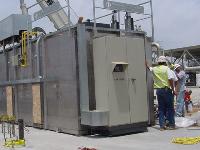 The controls, including the Variable Frequency Drive (VFD), are housed in a single climate controlled enclosure mounted on the Regenerative Thermal Oxidizer and factory wired to all of the components.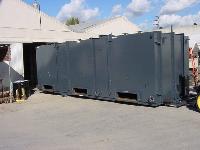 All Alliance equipment is chemically etched, epoxy primed and finish painted with urethane.

All Alliance Corporation Regenerative Thermal Oxidizers ship pre-assembled and ready to install. Typically our supervision is not required for installation. If your firm is capable of offloading the shipment when it arrives and setting the equipment in place, you will have completed most of the installation. All of our Regenerative Thermal Oxidizers can be offloaded with a forklift; however, welded lifting lugs are also provided for a crane, if needed. There is no field welding or painting required. All hardware, gaskets and vibration isolators are provided. Generally, all that remains is connecting the utilities and duct-work. Alliance Corporation will provide the remote support at no charge and of course, Alliance will provide complete turnkey services should you prefer; however, our goal is to provide equipment completely pre-assembled so the installation is quick and simple and overall project costs are minimized.
OUR REGENERATIVE THERMAL OXIDIZERS ARE PROUDLY MADE IN THE USA!